Only the goalkeeper or the acting goalkeeper (AGK) may legally play any ring that is on the goal crease line or entirely inside the goal crease. Alternately, neither the goalkeeper nor the AGK may move a ring into or onto the goal crease when it is entirely outside of the goal crease.
If either of these rules are broken, play is stopped and the ring is given to the non-offending team.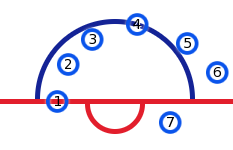 In the above image rings 1-5 may only be played by the goalkeeper. Rings 6 and 7 may be played by any player, but the goalkeeper may not bring the ring inside the crease.
Source: NOCP Rules Supplement & Ringette Canada Official Rules
M.t.l.romanuk@Gmail.com

Hello!




My name is Michelle Romanuk. I currently play for Macdonald Sizzlers in Open 5 but I spare regularly for Open 4, 3 and 2. My team is no longer putting in a team for spring and I am looking for either a ringette or hockey team to join. You can text me at 204-299-2282 or email me at m.t.l.romanuk@gmail.com. I work for pro hockey life and they are very good for making sure I don't work during my scheduled games. So if you need a goalie for the spring season I am your girl!
June 2017
s
m
t
w
t
f
s

1

2

3

4

5

6

7

8

9

10

11

12

13

14

15

16

17

18

19

20

21

22

23

24

25

26

27

28

29

30
Standings

Weather